We are constantly searching for new ways to build a better and more circular fashion industry.
Why do we need to innovate?
The fashion industry needs a systems transformation. Instead of taking a linear approach, we need to become circular to urgently address the environmental and social issues we face. However, we don't have all the answers. Yet. But innovation can help us.
We need to invent new materials and processes, develop new business models and investigate new ways for people to experience fashion and design. We also need to find new ways to improve working conditions and plan for the jobs of the future in a digital world with circular supply chains. And we can't wait for others to come up with the answers.
How we innovate at H&M Group
Innovation isn't easy. Ideas need to be trialled and tested, and then scaled up to make them work in a business our size. At H&M Group, we have built an innovation ecosystem that offers a broad range of support and helps remove any barriers along the way:
H&M Foundation's Global Change Awards funds early-stage innovations that have the potential to build a planet-positive fashion industry.
Our Circular Innovation Lab supports innovators and start-ups in joint development projects around circularity, from early-stage proof of concepts to capsule collections.
H&M CO:LAB is our venture capital arm that invests in new and developing technologies.
The Laboratory is our wider internal innovation hub that supports our brands and business with research and idea exploration.
Investing in the materials of tomorrow
We helped Renewcell release the first commercial products using its Circulose® fibres made from discarded textiles.
To test and support the future of sustainable textile processing, we worked with Alchemie Technology and imogo and launched the first products through our rental outlets in April 2021.
We collaborated with the Berlin based start-up Made Of Air which essentially converts greenhouse gases into usable material by transforming waste residues from the wood industry into a carbon-negative compound that can replace plastic in a variety of applications.
Our quest for new and more sustainable materials also includes our physical stores. We are now collaborating with BioMason, an American startup that challenges conventional concrete with biocement made of waste aggregate and microorganisms mixed with water.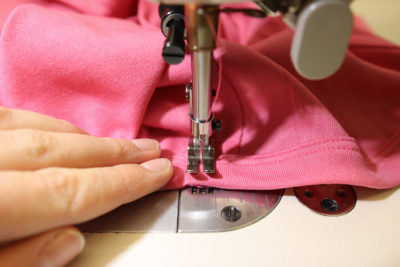 Discover how our innovation ecosystem helped Fairbrics test their idea of creating a polyester fabric out of carbon dioxide from industrial emissions.
Offering customers new ways to access our products
COS customers in UK and Germany can sell pre-owned garments worldwide on COS Resell, Arket offers a rental service for kid's clothing across Europe and we have invested in Sellpy, a resale platform. We also launched Singular Society, a subscription service that gives customers access to responsibly made, high-quality products at cost.
In 2020, we conducted a survey* to better understand our customers' attitudes to circular business models— from buying pre-owned clothes to repairing garments. We discovered that second hand, vintage and pre-owned services were used by 39% of customers, with 24% using these services 'often' or 'sometimes'.
* We surveyed 3,630 customers in Germany, Japan, Russia, Sweden, the United Kingdom.
Building a more efficient supply chain
We have developed an internal platform called Marketplace that allows our product development teams to source leftover material stocked by our suppliers.
What's next?
Access to sustainable products and services should be universal, so we'll continue to develop and scale Circular Business Models. This way we can make sure our products are used more, reduce pressure on resources and generate new revenue streams.
We also want to make it easier to recycle garments. Today, less than 1% of clothing is recycled because it is hard to sort garments efficiently and there is a lack of chemical recycling processes working at the scale we need. We will focus on scaling up this industrial set-up in future innovation projects.