& Other Stories debuts fragrant vending machine in Paris
& Other Stories is always exploring new ways to connect with people, inviting them into a world of wardrobe treasures and beauty products. They have now presented a tailormade vending machine experience filled with fragrant favourites from their bath and body range.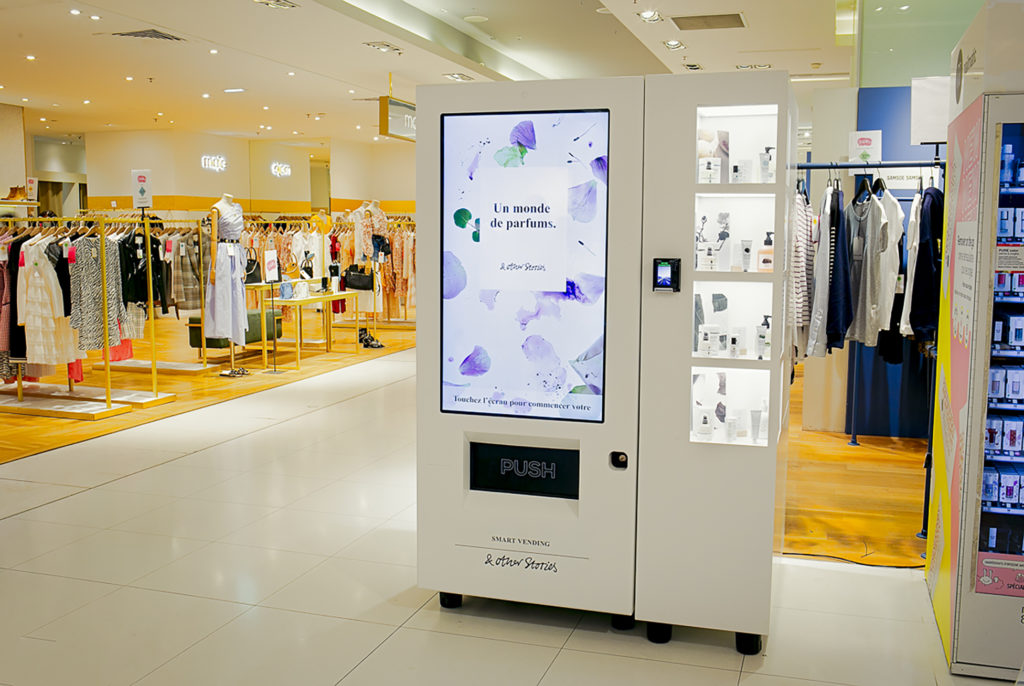 As the fashion and beauty landscape is constantly evolving, so are the ways to connect with people. & Other Stories happily explores new ways to share their world, inviting an even broader audience to be a part of their stories and discover collections from design ateliers in Paris, Stockholm and Los Angeles. By reviving a vending machine, & Other Stories turns a seemingly forgotten space into to a little hub that serves up fragrances and beauty products while telling the story of who they are.
"We felt very inspired by the idea of creating our own vending machine experience, turning it into a mini version of our stores. It has special features conveying several layers of our world. We hope that it will make people curious and inspire them to explore our stories," says Ebba Kettner, Head of Brand Design at & Other Stories.
This summer & Other Stories' very first tailormade vending machine landed exclusively in the 'La Coupole' building at Galeries Lafayette Paris Haussmann. It will be filled with four of their best-loved fragrances from their bath and body range: Perle de Coco, Punk Bouquet, Sicilian Sunrise and Arabesque Wood. The product categories include hand soap €7, mini hand cream €5, eau de toilette €30 and roll on perfume €15. For customers who already know & Other Stories, this vending machine can work as a quick shop to get their hands on a beauty favourite, and for new customers it will be a way to discover their world of fragrance.
& Other Stories vending machine will be found among the contemporary women's fashion on the second floor of Galeries Lafayette, 40 Boulevard Haussmann 75009 Paris.
This project is a collaboration between & Other Stories and The Laboratory, H&M Group. The Laboratory acts as a challenging partner for the H&M Group with the aim to explores opportunities together with outside partners on a conceptual level.
"We strive to constantly develop and challenge ourselves and there is always room for interesting new ideas and initiatives. With this pilot together with & Other Stories we want to offer a great customer experience with convenience and local relevance by being present in customers everyday life. We test small and scale smart once having learnings, starting with one location in Paris", says Anna Tillberg Pantzar, Head of The Laboratory, H&M Group.